Hoy hablamos de la Madrid School of Marketing, donde es posible acceder a un buen número de masters y cursos especializados a precios únicos. La formación en marketing es fundamental para gran parte de los sectores laborales actuales. Recurrir a una escuela especializada en estos ciclos formativos es una apuesta segura.
Madrid School of Marketing: una buena forma de aprender
En la escuela Madrid School of Marketing es posible acceder a bastantes cursos formativos especializados en marketing. Su programa altamente especializado en ello y su aval internacional avalan a esta escuela en la que la calidad de la formación es algo primordial.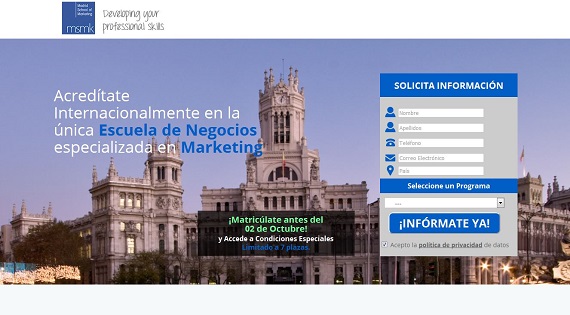 La metodología de formación de este centro es totalmente presencial. Por este motivo cuentan con unas fantásticas instalaciones en pleno corazón de la capital española. Desde esta zona privilegiada de Madrid es posible formarse como un experto en marketing.
Uno de los puntos más importantes a la hora de elegir la Madrid School of Marketing es la bolsa de empleo vitalicia a la que tendrás acceso al finalizar la titulación. Además sus programas de prácticas especializadas garantizan una formación sin igual.
Cualquiera de los cursos incluye el acceso a una bolsa de empleo vitalicia.
Madrid School of Marketing: cursos especializados
La escuela se caracteriza por la importante especialización de todos sus cursos que, además, gozan de proyección internacional. Si deseas información sobre cualquiera de ellos simplemente tendrás que rellenar el formulario online y pedir que te la hagan llegar. En muy poco tiempo se pondrán en contacto contigo para informarte sobre los pormenores de cada curso.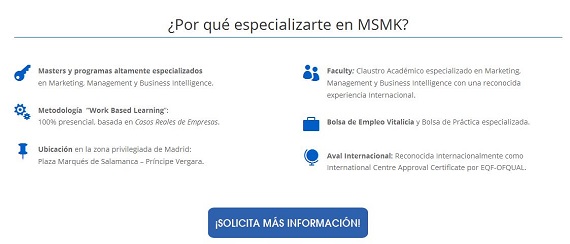 Madrid School of Marketing: precios de los cursos
Quizás lo peor que encuentro en la web de la escuela es la falta de información en cuanto a los precios de cada uno de sus cursos. Para saber lo que tendrás que invertir si quieres formarte en la Madrid School of Marketing será necesario que solicites la información específica o que te pongas en contacto con ellos vía telefónica.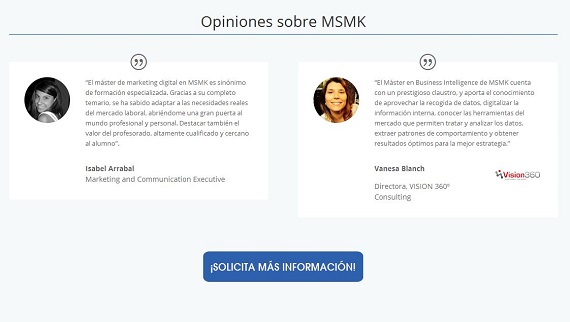 Madrid School of Marketing: masters con certificación académica
Un buen número de partners acreditan la formación con esta prestigiosa escuela de marketing en Madrid. Realizar uno de sus masters especializados en marketing contará con el aval de una universidad de prestigio internacional. Esto es primordial a la hora de decantarte por una oferta formativa de calidad. Tengamos en cuenta que no estamos hablando de masters online, aquí se valora el aprendizaje presencial y la máxima calidad de cualquiera de sus programas de estudios. Por este motivo, cuentan con diversas acreditaciones para sus masters y cursos.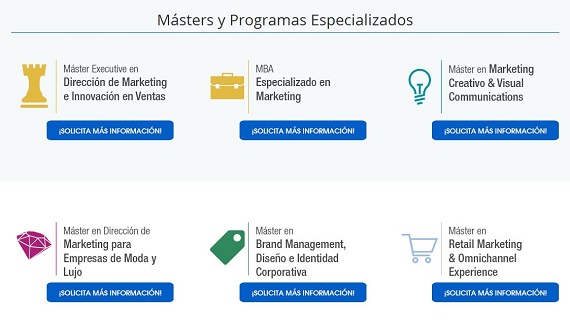 Os dejo aquí un vídeo fantástico con una de las master class sobre marketing que se imparten en esta fantástica escuela de formación en pleno corazón madrileño.
Para finalizar recordar que en la Madrid School of Marketing es posible acceder a distintos grados formativos especializados en el sector del marketing. Tanto sus cursos de formación como todos sus masters cuentan con avales internacionales que los hacen únicos. El único "pero" que le veo a la información que muestran online es la carencia del importe de cada una de las ofertas formativas.